Life in our Foothills July 2022 – Landfall
Published 11:26 am Wednesday, July 6, 2022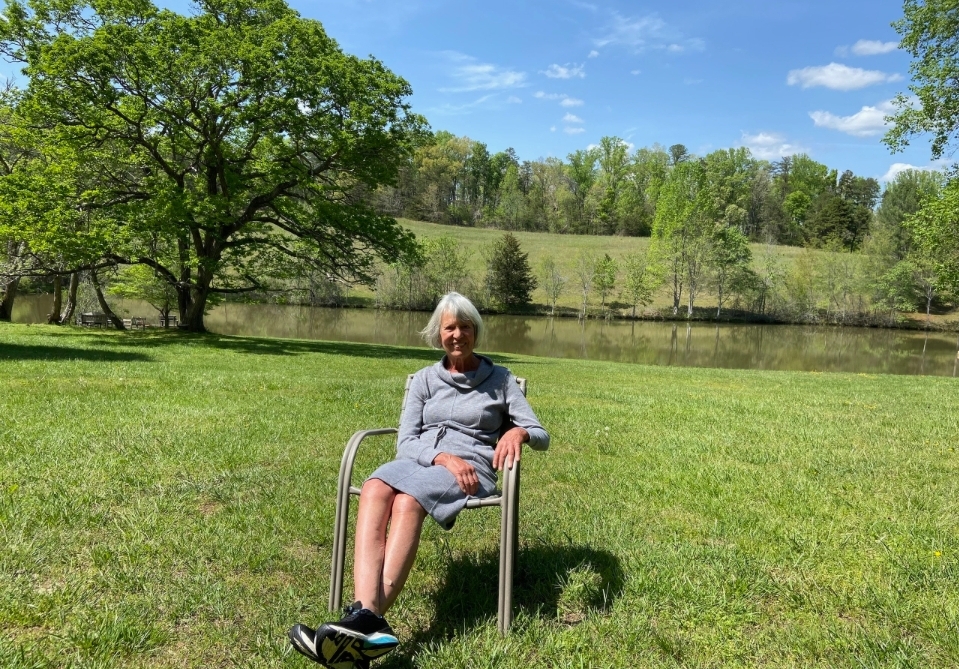 An Artsy Dance Film Shot in Polk County Does Well at Festivals Around the World
By any cinematic standard, Landfall, an "experimental film" shot in Polk County, NC, during the height of the COVID-19 pandemic, is artsy and unusual.
The short nine-minute film shows two lithe women dancers in flesh-tone leotards exploring the natural wonders of dirt, mud, still water, running water, rocks, and plants through creative moments, set to atonal cello music. Most of the award-winning movie was filmed at Morning Glory Farm, 49.9 secluded acres in Mill Spring, owned by Lynne Parsons, the mother-in-law of film producer and choreographer Kate Weare of Asheville. To Weare's surprise, Landfall has done well this year at film festivals around the world, selected to be included the Paris (France) Short Film Festival, Maryland Film Festival, and Jacksonville Dance Film Festival; it was an official finalist in the Boden (Sweden) International Film Festival; and it took Best Cinematography at the Experimental Dance & Music Film Festival in Canada. 
"When you make a project like this, you go deep inside an intuitive space, a space of not knowing answers or outcomes," Weare said. "This is a very exciting space for most artists, but the downside is you never know if anyone else will be interested in what you are so passionate about. That's the risk of it. So yes, we are thrilled and happy that the film has been so well-received by film festivals across the world." Landfall cost only $8,000 to make, a shocking low price, considering its quality and success.
Originally, Weare, the dancers Thryn Saxon and Nicole Vaughan-Diaz, and photographer/filmmaker Jack Flame Sorokin set out with only "artistic goals" during the pandemic summer of 2020 and needed a natural environment where they could be socially distant from other people and each other. "The impulse to film at Morning Glory Farm was really about COVID," Weare explained. "I knew we needed access to experiment in nature, and I also knew we could stay in separate spaces so that everyone could feel safe. Our shoot took place at the height of COVID uncertainty. At Lynne's place we could work outdoors, sleep and eat separately, and generally feel as safe as possible on her isolated fifty acres. She is very connected to her land, and I think it sustains her."
"It (the film) celebrates our beautiful land," Parsons said recently from her creative home surrounded by fields, ponds, hardwood trees, but no visible neighbors. She had purchased the property in 1976, while she was a practicing psychologist in Chicago. She and her late husband Ernie Giannini  relocated to the property in 1996. 
"The filming in Polk County took 10 days with dancers in residence at Morning Glory Farm, but the editing process was spread out for more than a year," Weare said. "Jack and I'd meet and work on the film whenever we could fit it in the cracks of our professional schedules. This particular film, and our collaborative partnership, developed slowly because Jack and I were learning about each other as artists through the process. It was a brand new venture for both of us, undertaken purely for artistic goals. We've developed a more consistent working rhythm now that our first film has met with such success, and it's clear we want to make more films together. We're also both freelance artists, so living with flux and change is normal."
In 2005, Weare founded the Kate Weare Company in New York City. She is renowned for her minimalist choreography that emotionally explores love, femininity, strength, and sexuality. Her movements often include seductive partnering, lifts, and a lushness. Her work has been presented globally, and she has received many awards, including a Guggenheim Fellowship for Choreography in 2014. She is married to artist and author Kurt Perschke, and they now live in Asheville.
The haunting score of the movie is Sept Papillons for Solo Cello (2000) by Kaija Saariaho and performed by Dirk Wietheger, with supporting music by Ensemble Musikfabrik. Together, the music and visuals create an experience that is unworldly, yet strangely familiar especially to anyone accustomed to the landscapes of Polk County. With no spoken words, the film starts with scenes of shimmering water, gray fog over the land, and a running creek. The first dancer to appear is seen lying face up and spread-eagle in a grassy field. With growing intensity, the scenes change from shadows on trees, water lilies in a pond, and extreme close-ups of plant life to a single hand reaching upward to the sky. With the dancers introduced, they are seen separately and together in the forest, climbing a tree, lying in a stream, manuving on a rutted dirt field, emerging from the water covered in water lilies. About halfway through the film, the dancers' feet are spotlighted as they walk toward each other on a fallen log. Soon they meet face to face and seem to inspect each other, getting closer and closer. With a faster tempo, the dancers are seen together, shadowing each other, in mud, fingers touching. It ends with muddy feet descending into clean water.
"We didn't make this film from the perspective of an intended audience, who might we show it or sell it to, or even who might be interested in it. We made Landfall out of artistic curiosity, and to push ourselves forward in a scary time of professional and existential uncertainty," Weare said. "Art-making is the impulse to explore, to try to make sense of things. That's what we were trying to do with Landfall. Our film balances an impulse toward natural beauty with a strong sense of uneasiness. Our film is not about story-telling, although a sensory story unfolds within it. The film is asking whether we belong in nature; whether we are natural or unnatural. The film asks these questions without necessarily answering them, because the answer is still unfolding. We human beings are still figuring out how to live on this earth without destroying it and each other. We haven't solved our own impulse toward self-destructiveness yet.
"My hope is that local folks will see that we looked very closely at the unique natural splendor of Polk County, that we noticed things that make a normal place feel special, like the abandoned construction site, which we turned into a moon's surface in our film," Weare said. "I think artists are looking closely at the world to perceive its possibility, very often sensing beauty and pleasure, and just as often peril, menace and danger, sometimes by pointing out the tiniest details most of us don't notice in our busy daily lives. It's that heightened sense of attention, of receiving the bounty of nature's information, that I hope people can see and sense in our film, Landfall."