Life in our Foothills July 2021 – Katie D's – A Lifelong Dream Realized
Published 2:55 pm Friday, August 13, 2021
Katie D's – A lifelong dream realized
Story by Erin Boggs
Photos by Erin Boggs and Jullia Zeleskey
Food tastes better when it's made with passion, and that is what you'll notice from the moment you walk into Katie D's NY Bagels & Deli.
As you enter the restaurant, to the left is a large art wall created by Katie and her daughter, made with pallet wood and paintings based on her daughter's childhood scrapbook art. Her original artwork didn't include a bagel, and Katie said "It has to have a bagel in it!" So – There the bagel floats, on the tip of the Octopus's tentacle in the middle of the painting, a scene reminiscent of Michelangelo's "The Creation of Adam".
Many of the tabletops were designed by Katie, with intricate handmade patterns of pennies and corks. The tables themselves were all hand built by Katie's husband and restaurant co-owner Don Jaeger. The restaurant walls are adorned with works by local artists, available for sale to customers.
Ever since she was a young girl, Katie D'Oyen wanted to have her own deli. Born and raised in Long Island, to her Greenville, SC native mother and New York born father, Katie's very first jobs were in authentic New York delicatessens.
She moved to Tryon in 1999 and worked for several years at the Tryon IGA in the deli. It was during those years she gained even more knowledge about the ins and outs of running a delicatessen. 
Finally, after many years of devoting her mind and heart to the dream of opening her own restaurant, Katie finally made it a reality in 2017. She was able to secure a prime location on Trade Street through the support of a local connection who knew of her plans. Katie says "It wasn't something that we just jumped into, so it came together much easier than you would think just because of the way we planned it out." 
When they first opened, she went to get her first debit card for the business, and the last four numbers of the debit card were the same as her childhood phone number. Having just lost her mother in 2016, Katie felt this was a good sign that everything was going to be fine and she was being taken care of. "I got goosebumps. Okay Mom, you're telling me this is good to go!" Katie says.
The tables and art are not the only things that are handmade by Katie and Don. All of the delicious soups, salads, desserts and bagel cream cheese spreads are created daily from scratch, by Katie herself. While you may have visited some delis where the soups came from a can, Katie crafts her soups from the ground up with her own home-made stock, and is always coming up with new soups to create based on the stock that she has. In the summertime, she offers a refreshing Gazpacho to help beat the heat. In the fall and winter, heartier soups like Beef and Barley help brighten her customers' days.
The food and flavors at Katie D's are straightforward and delicious, albeit with no unusual ingredients. "Avocados and Spinach are about our extreme," says Katie. The Italian Hero featuring traditional Genoa salami, Ham cappy (Capicola) and Provolone is well enjoyed by locals, but is what many native New Yorkers would call a true authentic New York Italian Hero. 
Katie used to outsource her corned beef brisket and smoked pork, but because she had her own family recipes, decided to marinate and roast these meats in-house. The Corned Beef Brisket is used to create her delicious Reuben, a customer favorite, and the Rachel which is a Reuben made with coleslaw instead of sauerkraut. The smoked pork, marinated for twenty-four hours then smoked low and slow, is nestled inside authentic Cuban sandwiches.
The bagels are all sourced from a partner company in New York. Katie says "A lot of people in the area said to me 'Bagels? They're horrible!' And I said to them, you've only had grocery store-brand bagels. You've never had a New York bagel. And when I first opened, I told them, if you don't like it, I'll give you your money back. I've never had to give back a penny!" Katie sells thousands of bagels each week and keeps a steady supply coming in for all her breakfast and lunch menu items. Conveniently, the restaurant also offers sliced cold cuts by the pound to take home.
Inside the cooler cases, beside the freshest fruit salad and biggest brownies you've ever seen, sits the New York Cheesecake. The cheesecake is so good that Katie has been asked for the recipe many times. Katie says "One customer came in and asked 'Can I pay you handsomely to sell me the recipe?' and I said "No! This is my mother's recipe and she's looking down at me right now saying 'You better not!'" For good reason, all of her recipes are closely guarded, and she only asks her two cooks for help in the prepping stage.
Katie says "People ask me, how do you come up with the different sandwiches? And I tell them we just put things together, taste them and see how they work." 
Like many restaurants and businesses in this area and all over the country, the past year's pandemic presented many challenges and struggles for Katie D's. But enabled by her loyal following, and even brand new customers from all around the Foothills and Upstate, they were able to keep the business going. After many months of only being able to offer curbside takeout orders, Katie, Don and their team of six dedicated employees were ready to get back to work getting the restaurant clean, safe and ready for dine-in business again. They did such a good job in fact that they received a 100% score on their sanitary inspection rating, which is almost unheard of. "I love to cook and I love people, so I think that makes a big difference." Katie says. "I just want all the local people to know how much I appreciate their support throughout this difficult time. We would not have survived it without them! It is so nice to see customers again, some we have not seen for a whole year." 
Besides her well-established restaurant, Katie and Don manage a flourishing catering business. They also provide popcorn, sliders, hot dogs and fruit salad for the concerts at Rogers Park in the summer. 
With all the business she's handling, one may be shocked to learn that every single week she hand-sources all of her fresh ingredients for the restaurant and catering business. While the restaurant is open Wednesday to Sunday, Katie's devotion to her business, food, customers and employees are proven all seven days of the week.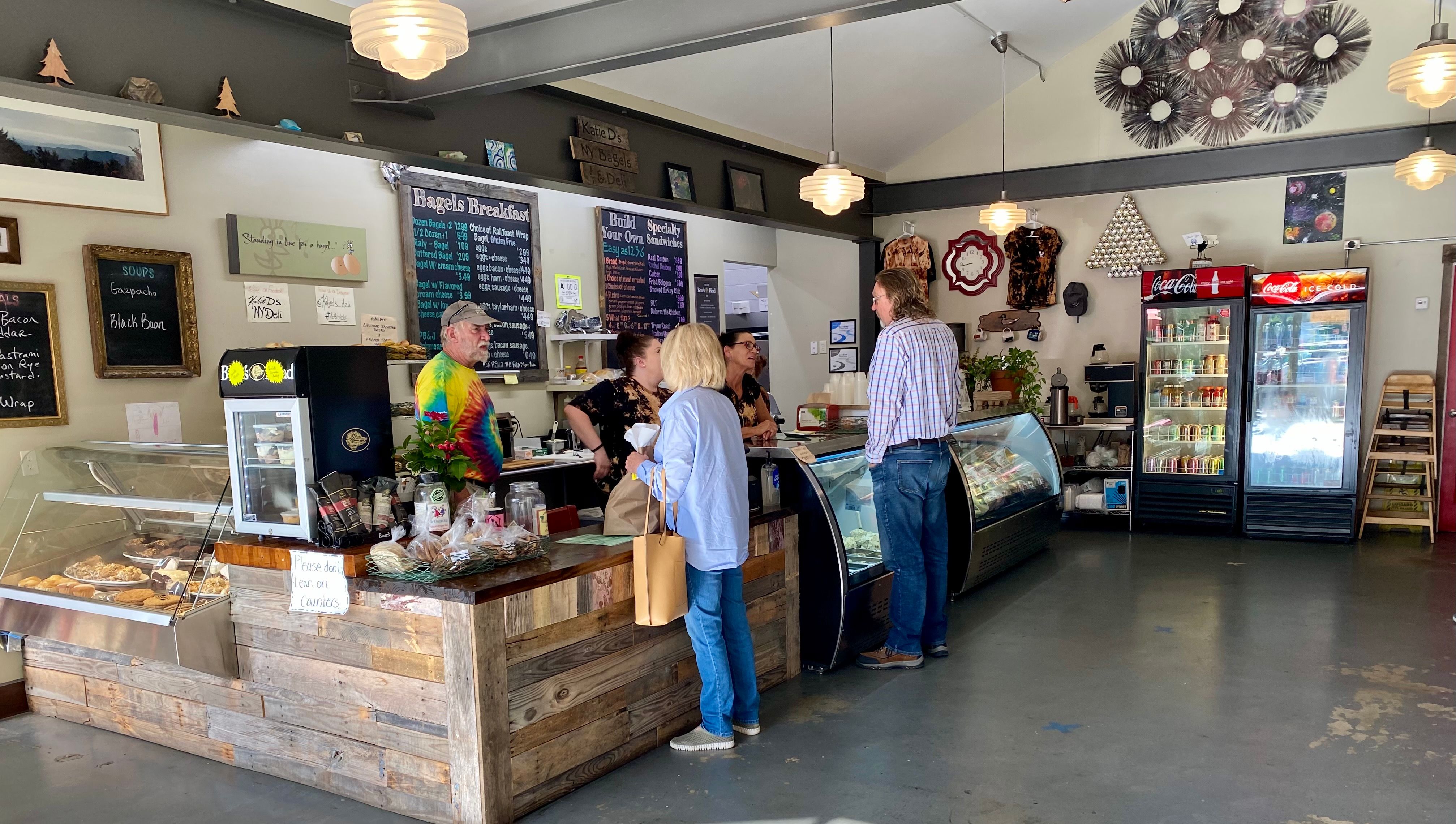 More Life in Our Foothills Magazine