2017 Year in Review – January and February
Published 11:25 am Friday, December 22, 2017

Editor's Note: Over the next week, we will publish our annual look back at some of the top stories, newsmakers and images that shaped the year. 
January
 Columbus Police Department expansion ends slightly under budget
The Columbus Police Department expansion came in under budget at $318,575, according to the Town of Columbus. The town budgeted $320,000 for the project and agreed to take $120,000 from the town's fund balance and to finance $200,000 from Entegra Bank.
Columbus man dies in Greenville County wreck
Curtis Russel Kempton, 57, of Columbus died from his injuries at the scene of the crash, which was along U.S. 276 about 10 miles north of Travelers Rest, S.C.
Tryon fire chief terminated; investigation ongoing
Tryon Fire Chief Joey Davis was fired on Friday, Jan. 27 after being with the town a decade. Tryon Mayor Alan Peoples said an investigation is ongoing and that Davis was terminated for "paying some of commissioner (Roy) Miller's bills with a town credit card."
Discover Columbus presents new flag to town
The Town of Columbus accepted a new town flag from the Discover Columbus Committee. The flag was a project by the Discover Columbus Committee that the town first adopted in October 2016. Columbus Mayor Eric McIntyre accepted the new town flag to be flown at Columbus Town Hall during town council's January meeting. Discover Columbus committee member Jimmi Buell, right, presented the flag to the mayor and council. (photo by Leah Justice)
Columbus man arrested on firearm, drug charges
Scott Allen Foster, of 198 E. Constance Street, Columbus, was arrested and charged with possession of a firearm by a felon, possession of methamphetamine, possession of marijuana and possession of drug paraphernalia, according to Columbus Police reports.
BBQ Festival canceled for 2017
Carolina Foothills Chamber of Commerce canceled the 2017 Blue Ridge BBQ & Music Festival because of decreased attendance, lack of funding, and ongoing contract negotiations. The recommendation to cancel the longstanding community festival came Wednesday, Jan. 18, during a BBQ Festival Committee meeting.
Tryon residents say their neighborhood is "out of sight, out of mind" 
Tryon Town Council held its Tuesday, Jan. 17 meeting in front of a packed audience, mostly from the Eastside community. Dr. Warren Carson spoke on behalf of the neighborhood, speaking of residents still dealing with issues 15 years later, including housing code violations, overgrown lots, streets in disrepair, drainage issues, traffic violations and having to negotiate for routine services like side mowing and leaf pick up. There were almost 50 residents in attendance, and several spoke about issues in the Eastside community. (photo by Leah Justice)
Polk EMS employee charged in alleged dog mutilation case
The Polk County EMS employee who was fired for allegedly mutilating a dead dog was later charged in the case, according to the Polk County Sheriff's Office.
Michael David Purdy, 21, was charged on Jan. 18 with resisting public officer, according to the arrest report. The charge is a Class 2 misdemeanor. Purdy was charged for lying to police officers during the investigation, according to Polk County Sheriff Donald Hill.
Tryon delays decision on controversial ellipse until after paving project completed
The painted ellipse, removed in January from Trade St. in downtown Tryon, will not be coming back. Tryon Town Council met Tuesday, Jan. 17 and announced that the town wouldn't make a decision on the ellipse until after the North Carolina Department of Transportation (DOT) completes a planned paving project along US 176 through downtown in 2018. The ellipse, which the town had painted with plans to put a compass in the middle, was removed by DOT after the state determined the paint did not meet requirements. (photo by Michael O'Hearn)
Polk sheriff's office makes arrest in Lake Adger fire
The Polk County Sheriff's Office arrested two people suspected of setting a fire to a Lake Adger home under construction in December 2016. Andrew Steven McDowell, 28, of 215 Nelon Lane, Mill Spring and Joshua Terrence
Ruff, 28, of 1536 Owl Hollow Rd., Mill Spring were arrested and charged with breaking, entering and larceny, according to sheriff reports.
Carolina Feedlots owners arrested on felony charges
The owners of Carolina Feedlots in Green Creek were arrested on charges of obtaining property on false pretenses, according to the Polk County Sheriff's Office. Justin Scott White, 26, and Crystal Amanda Roddy, 27, were each charged with felony obtaining property under false pretenses, according to sheriff reports. Late last year, charges were taken out on White by then Polk County Animal Control Officer Michael Herman for selling animals without a dealer's license, according to the sheriff's office. The N.C. Department of Agriculture suspended White's dealer's license late last year.
Polk ends 2016 more than 20 inches below normal precipitation
Despite rains, some heavy at the first of 2017, Polk County ended 2016 more than 20 inches below normal precipitation and remained in a severe drought as of the end of December.
Columbus interchange slated for major upgrades
The N.C. Department of Transportation (DOT) released its draft 2018-2027 transportation plan, referred to as the State Transportation Improvement Program (STIP) that included several projects in Polk County, including an almost $25 million project to create a ramp from I-26 to U.S. 74 in Columbus. The state expects to begin spending money on the I-26/U.S. 74 project in 2018. The estimated cost is $24,973,000 and will be a new interchange at exit 67 in Columbus to revise the interchange and construct regular improvements to N.C. 108. The project has since begun and is expected to be complete by August 2018.
Tryon Theatre sold to Tryon Cinema, LLC
After renovating three buildings on S. Trade Street including the Missildine's, Bank and Jackson buildings which re-opened at the end of 2016, Scott and Gayle Lane have set their sights on bringing another historical Tryon business into the 21st century. The Lanes bought the Tryon Theatre, built in the 1930s, from Barry Flood and his partners in December 2016 and established Tryon Cinema, LLC.
Polk asks for new survey of Polk/Rutherford County line
Anyone living on the line of Polk and Rutherford counties could have a change of address once a new survey is complete. The Polk County Board of Commissioners approved a resolution asking the North Carolina Geodetic Survey to resurvey the Polk and Rutherford County line. There was a case last year where a family thought they lived in Rutherford County and voted in Rutherford County but found out they actually lived in Polk County.
Polk County names new high school baseball coach
Billy Alm was named the new head baseball coach at Polk County High School. He replaced Ty Stott, who stepped down late last year after 21 seasons leading the program.
Godlock named to All-WNC cross country squad
Polk County's India Godlock was named to the all-Western North Carolina cross country squad by the Asheville Citizen-Times. The Wolverine senior earned all-state honors, finishing seventh in the 2A state championship meet with a personal best time of 19:39.11. Godlock won her third Western Highlands Conference individual title during the season.
February
Former fire chief considering lawsuit over termination
Former Tryon Fire Chief Joey Davis' attorney Stephen Lindsay said Davis is considering a lawsuit against the town over his firing. Davis was fired on Jan. 27 by town manager Zach Ollis. The town released a statement on Jan. 31 which said Davis was terminated for failure in personal conduct, conduct unbecoming of a public officer or employee, misappropriation of town funds, misrepresentation in town records for personal profit or to grant special privileges.
Carolina Foothills Chamber of Commerce holds 29th annual awards dinner 
The Carolina Foothills Chamber of Commerce held their 29th annual awards dinner at Melrose Inn on Jan. 31. The theme of the dinner was "Lights! Camera! Action!" Pictured are Duke Energy Citizenship and Service award recipient Patti Lovelace, Outstanding Citizen of the Year award recipient Suzanne Strickland, Business Person of the Year award recipient Ann Gargiulo, barbecue festival volunteer award recipient Mike Karaman, Skip Seaman Volunteer of the Year award recipient Dulcie Juenger and barbecue festival volunteer award recipient Eric McKaig.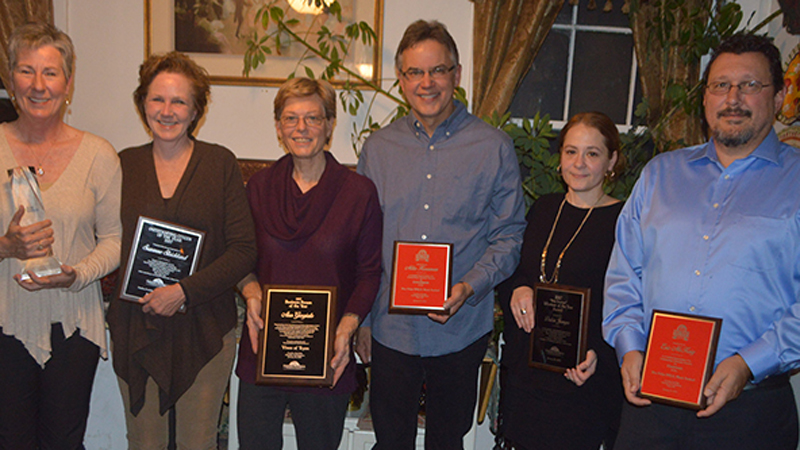 New WNC alliance to tackle opioid drug epidemic, overdose deaths
Vaya Health and community partners announced the formation of the Western North Carolina Substance Use Alliance, a collaboration to reduce the prevalence of alcohol and drug misuse, as well as the number of fatal overdoses, in 23 western North Carolina counties. The misuse and abuse of alcohol, prescription medications and illicit drugs affect the health and well-being of millions of Americans. In 2015, for the first time in U.S. history, the number of heroin-related deaths outnumbered gun homicides. In North Carolina, 25 percent of the 1,567 drug overdose deaths in 2015 involved heroin.
Polk arrests fugitive sex offender out of Rutherford County
The Polk County Sheriff's Office and North Carolina probation officers located a fugitive sex offender who had absconded from Rutherford County, according to the Polk County Sheriff's Office. Chad Hunt was located on Screven's Road in Tryon after information was obtained to lead investigators to a home there.
Hunt was arrested and charged with failure to report change of address, driving while license revoked, misdemeanor larceny, probation violation and failure to appear, according to sheriff reports.
Polk Sheriff's Office arrests two for opiates and cocaine
The Polk County Sheriff's Office, along with the Tryon Police Department, the N.C. State Bureau of Investigation (SBI), N.C. Alcohol Law Enforcement, the Spartanburg County Sheriff's Office and Homeland Security investigators arrested two local men on Feb. 1 on charges related to opiates and cocaine, including trafficking cocaine, Antoine Kendrick Counts, 30, of 612 North Shamrock Ave., Landrum, S.C. and Reggie Jamont Hannon, 34, of 912 E. Howard St., Tryon.
Columbus woman arrested for selling narcotics to officer
The Polk County Sheriff's Office arrested a Columbus woman for selling narcotics to undercover officers.  Sherri Lynn Lee, 45, of 132 Pheasant Lane, Columbus, was arrested and charged with two counts of sell and deliver a schedule II controlled substance and two counts of maintaining a vehicle to keep a controlled substance, according to sheriff reports.
Polk hears plans from Foster Creek Preserve to grant county 300 acres
Carolina Mountain Land Conservancy (CMLC), which acquired Foster Creek Preserve, a 1,068-acre property in Columbus, detailed its plans to county commissioners saying 300 acres of the property will be granted to the county for recreation.
New state law could add member to Polk board of elections
A new law by the state of North Carolina could eventually mean the Polk County Board of Elections will add a member to its board. The Polk County Board of Commissioners met Monday, Feb. 6 and heard from board of elections director Cliff Marr about the local impact of the N.C. Session Law 2016-125, which passed in December 2016.
Concord man dies after falling off Bradley Falls
A 47-year-old man from Charlotte, N.C. died after falling approximately 120 feet from Big Bradley Falls in Saluda, according to Polk County Emergency Management. The man, identified as Lance Konstants Healy, had come for a hike with his two daughters.
Saluda Fire and Rescue asks WRC for barriers at Bradley Falls
After yet another deadly fall at Big Bradley Falls in Saluda on Feb. 12, Saluda Fire and Rescue has asked the N.C. Wildlife Resources Commission (WRC) to place barriers in the area to prevent further falls. Saluda Fire and Rescue Deputy Chief Zach Pace emailed Isaac Harrold, N.C. Wildlife program manager with the WRC, following the death of a Charlotte man, who fell over 100 feet from the top of the falls and died.
TIEC requests changes to zoning ordinance, development agreement
Tryon International Equestrian Center (TIEC) has requested some changes to the county's zoning ordinance and development agreement, including asking for a new equestrian commercial district, to change the building height from 50 to 60 feet and to add additional property purchased to the development agreement.
There was also a proposal to change the number of hotel rooms from the previous 450 rooms to 1,500 rooms.
TIEC partnering with Polk County High School for internship program
The Tryon International Equestrian Center (TIEC) partnered with Polk County High School to provide work to sophomores, juniors and seniors at the center's restaurants and offices. According to Ronette Dill, director of curriculum and instruction with Polk County Schools, 13 students from PCHS participated in this program during the first semester of the 2016-2017 school year under the supervision of PCHS biology and occupational preparation teacher Maria Mason-Freeman. Pictured are students in the occupational preparation class working at the TIEC in an unpaid internship program as part of their curriculum with the end-of-year goal of individual student internships. (Photo submitted by Ronette Dill).
Landrum Lions Club unveils new reading space in Landrum Library
The Landrum Lion's Club unveiled a new reading space in the center of the Landrum Library in celebration of the 100th anniversary of Lions Clubs International.
According to Bob Walker, treasurer of the Landrum Lions Club, the renovation cost $11,242.50 and was funded by the Landrum Lions Club. The space includes new books, bookshelves and cabinets for both large print editions and new releases. New carpet was also installed and bronze plaques commemorating the contribution were unveiled. Walker and Gerald McCool of the Landrum Lions Club also presented a check for $8,000 to the Landrum Library for the project. (photo by Michael O'Hearn)
Columbus, Saluda hire new attorneys
The Town of Columbus and City of Saluda have new attorneys. Columbus, Saluda and Tryon had attorney Bailey Nager until he announced his resignation to all three towns last year, and the towns have been searching for attorneys since. Columbus hired attorney Lora T. Baker to replace Nager, while Saluda hired attorney Jana Berg.
Residents ask why commissioner is still on Tryon council
A few Tryon residents questioned Tryon Town Council regarding town commissioner Roy Miller and the firing of fire chief Joey Davis. Tryon Town Council met Tuesday, Feb. 21 in front of approximately 50 residents. During citizen comments, three residents grilled council with questions about Miller, including whether or how Miller can be removed from office. Tryon Town Manager Zach Ollis fired Davis Jan. 27 for using town credit cards to pay some of Miller's bills. Miller did not attend the meeting.
Tryon Presbyterian Church catches fire
The Tryon Fire Department was alerted to a structure fire at Tryon Presbyterian Church on Friday, Feb. 24. Tryon's Engine 3 arrived and firefighters went into the structure and found heavy fire in the crawl space, which burned through the flooring and into the preacher's office.
Tryon hires special attorney for Davis termination case
The Town of Tryon hired a new attorney to handle matters concerning the case of Joey Davis, Tryon's former fire chief who was fired Jan. 27, 2017. The town obtained the services of attorney Bill Brazil, of Brazil & Burke, P.A. of Asheville, according to then Tryon Town Attorney Bailey Nager. Davis has not filed a lawsuit against the town but his attorney, Stephen Lindsay, threatened a lawsuit.
Area residents voice strong opposition to widening Hwy. 108
Tryon Town Council had to move its meeting to the fire department after approximately 100 area residents came to a work session to voice their opinions on the state's plan to widen Hwy. 108 between Columbus and Tryon to four lanes and a median. The state has since scrapped its plans to make Hwy. 108 four lanes and instead says it will make improvements to the existing two-lane road. Everyone who spoke, including Jonathan Gerst, center, was against four lanes of traffic. (photo by Claire Sachse)
Steeplechase sets new course at new location
Tryon Riding & Hunt Club and Tryon International Equestrian Center (TIEC) announced that they have formed a partnership to manage and produce the 71st running of the Tryon Block House Races. Under the agreement, the Steeplechase will be held on April 15, 2017 – and in the future on the third Saturday in April. This year's race will have a total purse of $150,000 – the highest in the history of the event – and will move from the Foothills Nature Equestrian Center (FENCE) where it has taken place since 1988, to a new one-mile track on 115 acres of land managed by TIEC, located at 6881 N.C. Hwy. 9, Columbus.
Saluda arrests two on drugs, identity theft charges
The Saluda Police Department arrested two men from out of state who were in possession of drugs and blank credits cards, according to police reports. Artyom Tom Tshughury, 38, of Glendale, Calif. and Napoleon Mikaelyn, 44, of Queens, N.Y., were arrested and charged with trafficking opiates and 45 counts of identity theft, 45 counts of financial card forgery and 45 counts of felony conspiracy.
Structure fire burns man and destroys home in Landrum
A structure fire burned a man and destroyed a home in the 200-block of Butter Street in Landrum, according to Glassy Mountain Fire Department Chief Robert Staples. A second call to the Glassy Mountain Fire Department said that the entire home was involved and a man had been burned, receiving second-degree burns to his hands and first-degree burns to his chest and burns to his face.
Tryon Eastside residents say neighborhood being ignored
After Tryon's packed town council meeting in January with mostly Eastside residents in attendance and concerns raised by the Eastside Citizen's Advisory Committee, Dr. Warren Carson came to the town's February meeting to say the concerns have been ignored. Tryon Town Council met Tuesday, Feb. 21 and heard from Carson during citizen comments at the end of the meeting.
Polk welcomes new human services director
Polk County has hired its first consolidated human service director, Joshua Kennedy.
The county agreed last year to consolidate its human service departments and to hire a director to oversee those departments, which include the department of social services (DSS), transportation, senior services and veterans services.
Nelon, Jackson set school records in Last Chance meet
Micheala Nelon tuned up for the state indoor track championships by setting a school record in the shot put during the Polk County Really Last Chance Polar Bear meet in G.M. Tennant Stadium. Nelon's throw of 34-7 easily topped the school indoor record of 34-0 that she posted in last year's state championship meet. Nelon holds the school outdoor record in the event with a throw of 34-8 1/2. Two other Wolverines, both already having qualified, won their events – Troy Lieberman taking the pole vault and Izzy Jackson winning the 500 meters. Jackson set a new school record with her time of 1:19.81, breaking the mark of 1:20.3 set in 2011-2012 by Rebecca Elliott.
Wolverines earn five medals at indoor track and field championships
The Polk County Wolverines earned five medals at the indoor track and field state championship. Troy Lieberman placed second in the pole vault, with Jake Justice placing third in the pole vault, Lauren Ketwitz took fourth in the girls vault, Izzy Jackson placed fourth in the 500 meters and India Godlock placed fourth in the 1,000 meters.
In Memoriam
January:
Madge Johnson Phillips
Richard Henry Bills
Rev. Robert "Bobby" A. Bates
Kathleen Andrews Wagner
Evelyn Painter Pittman
Walter Jackson Killough Jr.
Carl Christopher Pace
Robert Lee Taylor
Mary Ellen McAbee Shehan
Ruth Middleton Rhodes
Thomas Everett Kimpton
William W. Kellett III
Dorothy Harrison Greenway
Caroline Faye Ode
Jim Ambrose
Estella Stone Hanson
Melvin Paul Finch
Harriett (Carlson) Terwilliger
Ronald Keith Mosseller
Rosamond Logan Elliott
Daniel Hallberg Goree
Betty L. Davis
Margaret Fain Mize
Curtis (Curt) Kempton
James Martin Purcell, DDS
William "Bill" Ervin Bradey
Frederick Richard Frederici
February
Jane Prestwich Schumacher
Janice Trivett Edney
Clark Pringle Pace
Janet Cason Connell
William (Bill) Hilbig
Elaine Schappet Haines
William Patrick "Bill" Parsons
Howard Belton Greene
Ruth Day Taylor
John O. "Johnny" Bradshaw
Preston Sidney Collins
Annette Smith Stafford
Ernest L. (Ernie) Giannini Jr.
Harley Benson
Dorothy "Dot" Ann Gregory Tucker
June Sylvia Lane Wall
Donald George Kaspar
Caroline Thomas Faulkner Callahan
Robert Thomas Daniels, Jr.
Audrey Gabriel
Manning Lee Williams
Cheyenne Mille
William Paul Brown
Constance "Connie" Elizabeth Preble Oswald
More News