Never half way
Published 11:59 pm Thursday, March 31, 2016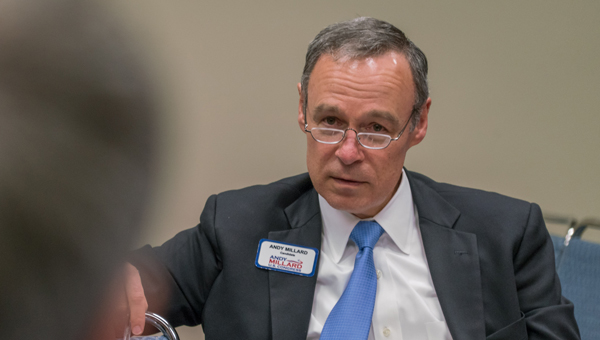 Tryonite Andy Millard is running (and walking and biking) for Congress
Written and photographed by Michael O'Hearn
Photos also submitted by Erik Olsen, Dean Trakas, Andy Millard and Andrew Sowders
Folks familiar with the Foothills area may recognize the name Andy Millard, owner and financial planner with Millard & Company in Tryon. Millard, a native of Flint, Mich., has lived in Tryon since the age of 35.
Today, Millard is the sole Democratic candidate running for the seat held by Congressman Patrick McHenry in North Carolina's tenth district after announcing his run in March 2015.
"I went to graduate school at Wake Forest and then taught school for seven years, became an assistant principal for six years and came to Polk County as the first principal for Polk County High School," Millard said.
He has been a financial planner, with Main Street Financial and later Millard and Company, since 1994 after leaving the school system.
Doug Wilson is the deputy executive director for the North Carolina Democratic Party. Wilson has met Millard on a few occasions since he started his campaign.
"He's a very serious man, but easy to talk to and my first impression was that he is a good man," Wilson said. "He knows North Carolina well and would ride his bike around the entire district to get to know everyone if he could."
Millard has had a hand in a lot of events around Tryon, including parking cars at the Blue Ridge Barbecue Festival, which he also chaired for eight years.
"I still love doing that and, barring some unforeseen circumstance," Millard said, "come mid-June this year I'm going to be out parking cars again."
He has held two concerts to raise money for charity at the high school and a beauty pageant for men where he came in second place to South Carolina's Representative Doug Brannon who, in Millard's opinion, should not have won because he "was a prettier woman than Brannon."
He's even run five marathons, including the Goofy Challenge at Walt Disney World in 2013, which requires participants to run a half-marathon and a full marathon in a weekend.
"It is not for the faint of heart and my friend John Cash says, 'if you're going to take the test, be sure you do the homework,'" Millard said. "You've got to train for it and you can't just jump off the couch to go run a half-marathon on one day and a full marathon the next day."
Dean Trakas, the principal architect at Brady-Trakas Architects in Tryon, has known Millard since 1999 and takes annual excursions with Millard and their mutual friends. Their first trip was in celebration of Andy's 50th birthday at a ranch in Mexico.
"That was a real ranch and Andy had to learn how to ride a horse perfectly and be a cowboy," Trakas said. "Of course, he goes out and buys all of the cowboy wardrobe with the chaps and the perfect hat because Andy never goes halfway through with anything. We were just like, 'Oh my God.' That was the best trip we ever took."
Michael Baughman is Millard's coworker and said although he's only known Millard for a few years, he sees him as a mentor and bigger brother.
"He's been helpful in times of need, and everything we've done to this point is on a professional level," Baughman explained. "I see him as a mentor, a colleague and a big brother to me and I know I've had an influence on him. I don't think you can find any dirt on Andy. He's a squeaky clean guy."
Trakas said Millard has been a good friend and mentor in their 17 years of friendship and has a knack for getting people to come to an agreement on issues.
"He's an idealist and also one of the most practical guys that you'll ever see," Trakas said. "He's been a great friend, adviser and confidant to me even if I didn't particularly want the advice. Not many people can take a room full of people and get them all to get on the same page in a short amount of time like he does."
Baughman said Millard has to run for Congress because he feels the current political climate could use his personality.
"In this day and age, when someone says 'I'm running for Congress,' the reaction is 'Why in the world do you want that job?' I think that's the antithesis of the response we ought to have from people," Baughman said. "It's somewhere we need to be sending our best and brightest and thank God people like Andy want to run for Congress."
Trakas said he believes if Andy wins in November, he won't desert Tryon.
"I've had friends that have gone into politics and I would rarely see them because they became a part of the Washington scene and got sucked in," Trakas said. "He's not a politician. I see him as a public server and if, God willing, he wins and gets started he will come back and be a part of this community again."
When asked if whether being a principal and teacher has prepared him to run for Congress, Millard said everything he has done to this point has prepared him for his campaign.
The inspiration for running for Congress comes from Millard's belief that he can simply make a good congressman, despite not needing the job in the first place.
"I think I will make a good congressman, to be honest with you," Millard said. "I've been embarrassed to say that for a while, but I'm not anymore. However, I don't need the job. That's one thing that makes this so ironic."
More Life in Our Foothills Magazine